---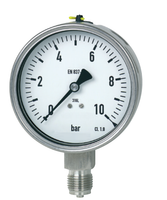 Mechanical pressure measuring instruments (Pressure Gauges) remain the most reliable equipment to measure process pressure. Even with advancements in smart pressure transmitters, Bourdon tube pressure gauges remain every designer's compulsory pick. Some standard specifications for the goods that we have in stock are given below : 
Case Material : Stainless Steel 
Dial : White Aluminium with Black marking 
Pointer : Standard 
Wetted Parts : SS316L 
Process Connection : 1/4" NPT or 1/2" NPT Male, Lower mount 
Accuracy : Class 1.6 ( 63 mm ) ; Class 1.0 ( 100 mm, 160 mm)
Case Filling : Glycerine 
For discounts and special pricing, please contact us.