---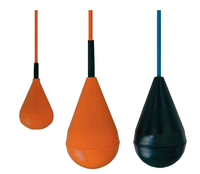 Suspended float switches are attached to a highly flexible cable hanging from above and contain a micro switch, which is potted and enclosed, shock and fracture-proof, in a double-chamber system. When the float body is immersed in a liquid, the float bulb tips and triggers the micro switch.
One suspended float switch is required for each switch point. The contact is designed as a change-over contact, so that it can be configured as a high alarm as well as a low alarm. Through the patented, centrically mounted micro switch, the
suspended float switch can switch in any direction, and not dependent on the direction in which the switch tips.